Jual TC-Helicon Perform-VE
Terima Kasih sebelumnya telah mengunjungi lapak kami. Kunjungi juga website kami di :
Dear My All Customer yang tercinte,
Numpang jualan lagi...
IMAGINATION MUSIC STORE mau promosi barang baru lagi nih
Mulai dari professional sound system, alat musik, aksesoris, lighting, paket karaoke, CCTV & banyak sekali produk elektronik lainnya...
Untuk yang ini, kita kasih kejutan promo yang seperti ini...
Penasaran?
langsung saja gan... CHECK IT OUT
Jual TC-Helicon Perform-VE
Jual TC-Helicon Perform-VE
,
harga Rp. 6.400.000,-
Realtime Vocal Sampler and FX Processor with Drum Looper
Ready to take your performances to weird, wonderful new heights? The TC-Helicon Perform-VE vocal processor samples your voice and enables control of its playback via a MIDI controller, with today's hottest EDM and pop vocal effects — vocoder, autotune, and stutter — on tap to make it memorable. Whether you're a DJ or an acoustic performer, once you gig out with the Perform-VE, you'll never want to leave home without it. An onboard Midas mic preamp with Adaptive Tone processing gives you clean, clear vocals without any menu diving. You can even dial in your own studio-quality reverb and delay on the fly. Another great feature in the Perform-VE is the one-touch looper, whose built-in drums make it easy to build beats on the spot.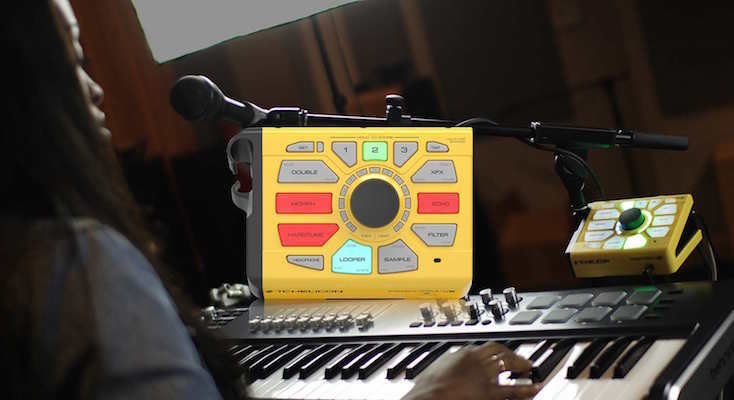 Realtime voice sampling and drum looping
Perform beside your own virtual choir or craft beats off the cuff with the TC-Helicon Perform-VE. It effectively turns your voice into a MIDI-playable instrument. Shift your vocals into unreachable octaves or mangle them beyond recognition. Then layer in beats via the one-button drum looper. Both features include MIDI time sync for connecting to external devices.

A true vocal workhorse
Sweetwater knows that vocalists of all backgrounds, contemporary to traditional, will enjoy the Perform-VE's solid microphone front end and studio-quality FX.

Perfect for practice
A headphone output makes the Perform-VE a valuable tool to have for hashing out songs at the hotel or gearing up in the green room.

Soundcheck in seconds
Getting your levels right with the TC-Helicon Perform-VE is painless. Plug in your mic, hold the Set button, and sing. That's it. The Perform-VE automatically sets EQ, compression, de-essing, and noise gating based on your vocal stylings. Now you can spend less time in menus and setup and more time doing what you love: creating music.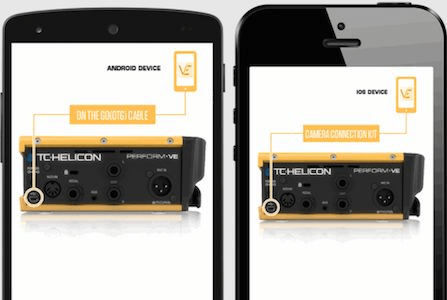 Download presets with the Perform-VE app
You can do a lot with the TC-Helicon Perform-VE vocal processor right out of the box, but pairing it with a free app on your smart device is where the fun really begins. Augment the Perform-VE's onboard reverb, echo, and doubling effects with an entire library of custom sounds. Simply beam these presets from your device via Bluetooth, and unlock a whole new world of possibilities.

TC-Helicon Perform-VE Vocal Processor Features:
Turns your voice into a playable instrument
Essential for live EDM, dance, and DJ sets
Onboard autotune, vocoder, and stutter effects create memorable performances
Midas mic preamp provides a clean, clear front end
Adaptive Tone sets EQ, compression, de-essing, and gating based on your voice
Studio-quality reverb, echo, doubling, and filter effects
Pitch shift and gender shift
Looper with built-in drum samples
Tap tempo and MIDI tempo sync
Hands-on control with optional MP-75 or MP-76 microphones (sold separately)
Power supply and USB cable included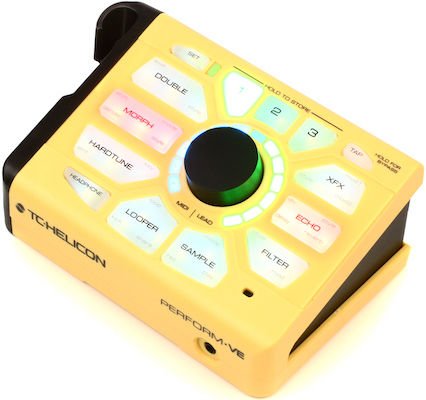 Untuk Info Pemesanan, bisa hubungi kami di :
Berbagai bukti pengiriman ane ke customer di berbagai daerah dapat dilihat & di baca di :
Untuk pembayaran, transaksi dapat dilakukan di :
Rek Mandiri : 900 - 00 - 2522173 - 1
A/N : Tony Kurniawan
Rek BCA : 752 - 024 - 4110
A/N : Tony Kurniawan
No Nipu2 Tidak Menerima COD (via kirim2 dulu)
Pengiriman via TIKI, JNE, Mex Berlian, Indah Cargo, Panca Kobra, MPS dll
Terima Kasih Atas Kunjungannyaa