Jual Fender Eric Johnson Thinline Stratocaster - Vintage White
Terima Kasih sebelumnya telah mengunjungi lapak kami. Kunjungi juga website kami di :
Dear My All Customer yang tercinte,
Numpang jualan lagi...
IMAGINATION MUSIC STORE mau promosi barang baru lagi nih
Mulai dari professional sound system, alat musik, aksesoris, lighting, paket karaoke, CCTV & banyak sekali produk elektronik lainnya...
Untuk yang ini, kita kasih kejutan promo yang seperti ini...
Penasaran?
langsung saja gan... CHECK IT OUT
Jual Fender Eric Johnson Thinline Stratocaster - Vintage White
Jual Fender Eric Johnson Thinline Stratocaster - Vintage White
,
harga Rp. 30.000.000,-
Semi-hollow Take on Eric's Wildly Popular Signature Model
In the pantheon of legendary Stratocaster players, Eric Johnson has more than carved out a place for himself. And with the introduction of the Fender Eric Johnson Thinline Stratocaster signature model, he is taking the instrument to new sonic territories. With the guitar's historic shape, Eric's preferred neck carve, and the man's signature single-coil pickups all accounted for, they're attached to a semi-hollow alder body. This construction not only removes weight, but it also allows the guitar to sing with a new level of resonance and air. If you want to play what EJ plays, the Fender Eric Johnson Thinline Stratocaster is it.
Semi-hollowbody construction
When Eric Johnson talks tone, people listen. So it's no surprise that his move to semi-hollowbody Stratocasters is perking up some ears here at Sweetwater. This Strat's alder body boasts hollow cavities on both the treble and bass side with a solid toneblock running from neck to end pin down the middle. If you've ever experienced the top-end detail and woody character semi-hollowbody construction adds to your tone, you'll understand what this instrument is capable of. And it's all completed with an elegant-looking F-hole along the guitar's bass side.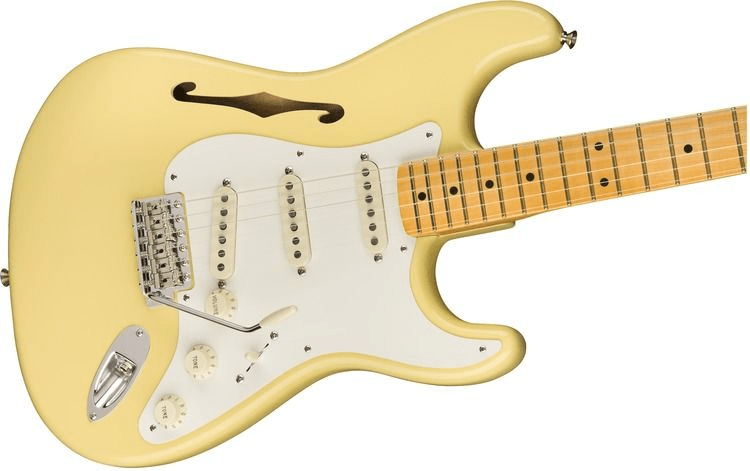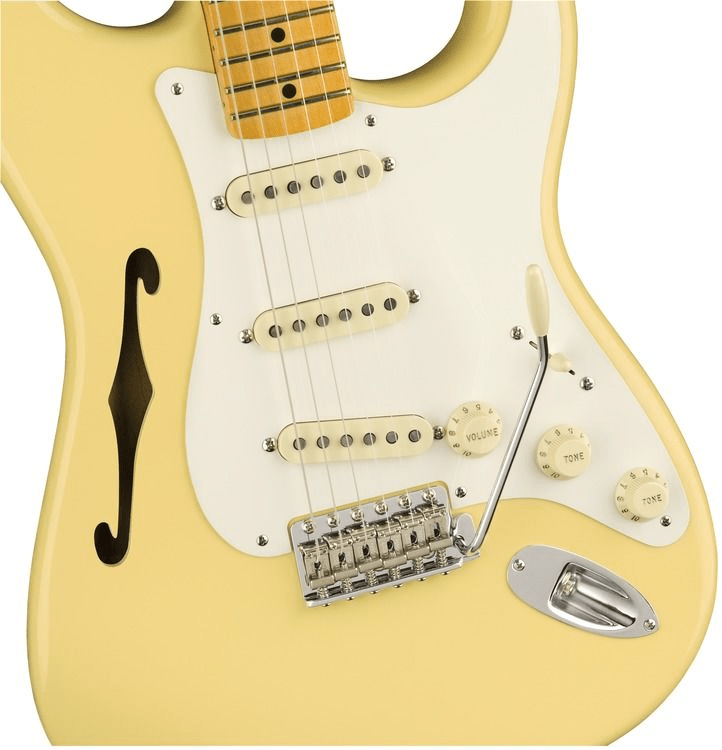 Eric Johnson signature single-coils
Eric Johnson possesses some of the most awe-inducing clean and driven electric guitar tones out there. It's his ceaseless quest to perfect that sound that has led Fender to release his signature set of three single-coil pickups. Special care was taken to reproduce the exact output and sweet tone Johnson is after, utilizing a mix of Alnico 3 and Alnico 5 staggered magnets. And the Eric Johnson Strat Pickup Set boasts a hotter bridge pickup to ensure you enjoy a balanced signal across all the pickup switching positions.

Eminently playable neck
Eric and the team at Fender spent a lot of time crafting a neck that would offer the best of vintage feel with modern playability. Your fretting hand will cradle the all-maple neck's '57 Soft-V profile that offers enough wood for excellent sustain and comfort, while also allowing the fleet-fingered passages Johnson is known for. The fingerboard has been planed to a flat-ish 12" radius, which encourages wide bends without the fear of fretting out. Finally, like the guitar's body, the neck is finished in a vintage-correct nitrocellulose lacquer that will age gracefully.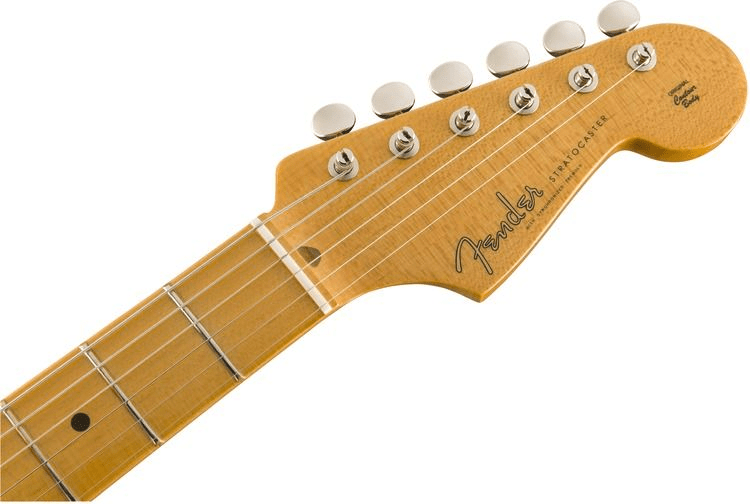 Fender Eric Johnson Thinline Stratocaster Semi-hollowbody Electric Guitar Features:
Semi-hollow Stratocaster designed for Eric Johnson
Even-toned alder construction
Semi-hollow construction is lightweight and adds resonance and clarity
Comfortable '57 Soft-V neck profile
Fast-playing 12" fingerboard radius
Loaded with 3 EJ Signature single-coil pickups
Vintage-style tremolo
Untuk Info Pemesanan, bisa hubungi kami di :
Berbagai bukti pengiriman ane ke customer di berbagai daerah dapat dilihat & di baca di :
Untuk pembayaran, transaksi dapat dilakukan di :
Rek Mandiri : 900 - 00 - 2522173 - 1
A/N : Tony Kurniawan
Rek BCA : 752 - 024 - 4110
A/N : Tony Kurniawan
No Nipu2 Tidak Menerima COD (via kirim2 dulu)
Pengiriman via TIKI, JNE, Mex Berlian, Indah Cargo, Panca Kobra, MPS dll
Terima Kasih Atas Kunjungannyaa