Jual Caparison Guitars Brocken FX-WM - Trans Black Matt
: Caparison Guitars Brocken FX-WM - Trans Black Matt
Caparison Guitars Brocken FX-WM - Trans Black Matt
Everything a Discerning Guitarist Could Want
The Caparison Brocken FX-WM is a forward-thinking instrument that
takes stability, tone, playability, reliability, and aesthetics to a
whole new level. Even before you plug it in, you'll experience
unbelievable natural tone thanks to a resonant walnut-topped mahogany
body. And when you do crank up your favorite amp, you'll understand why
the Brocken FX-WM is so popular with modern metal guitarists — its
high-gain tones are incredible! This guitar's 5-piece,
titanium-reinforced neck was built for speed, and its 27-fret,
compound-radius ebony fingerboard enables you to explore new musical
frontiers. The Brocken FX-WM includes high-end Gotoh hardware, a
resonance-enhancing top coat, and an eye-catching devil's-tail-shaped
headstock.



Top-shelf materials make this guitar impossible to put down
The Brocken FX-WM was built from top-shelf materials. A resonant
mahogany body provides a solid tonal platform, exuding warmth and
sustain. This already exquisite tone is then injected with extra
definition and clarity thanks to a walnut top. A 5-piece,
titanium-reinforced maple/walnut neck offers incredible stability while
adding a nice sonic bite and maximizing the Brocken FX-WM's sustain. The
guitarists here at Sweetwater are blown away by how comfortable the
Brocken FX-WM is to play — its 1.5"-thick body is exceptionally
lightweight, and its oiled, soft D-shaped neck practically melts into
your hand. Add a fast-playing 27-fret compound-radius ebony fingerboard
to the mix, and you have a guitar that's impossible to put down.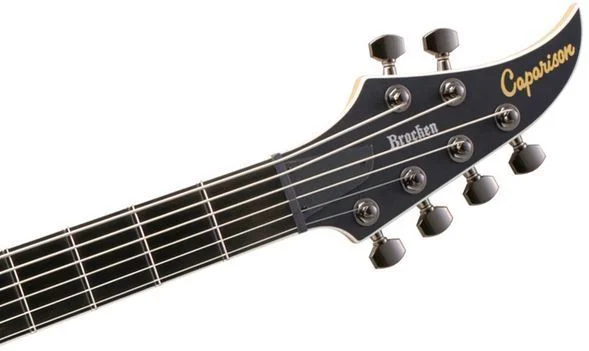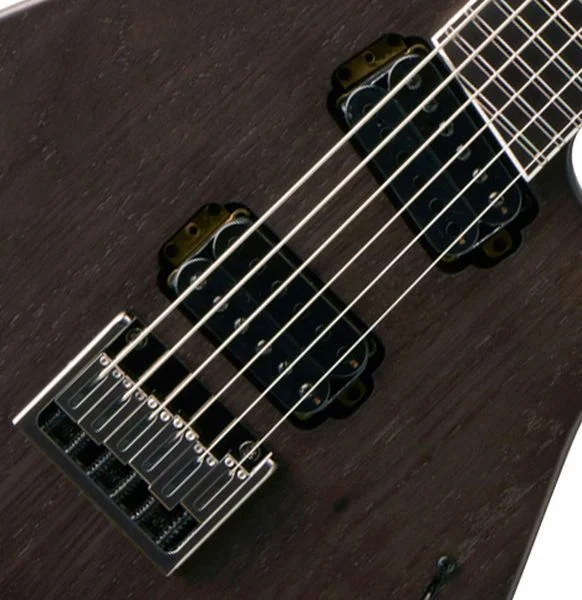 High-end electronics deliver endless jaw-dropping tones
Plug the Caparison Brocken FX-WM into your favorite amp and be
prepared — you're in for a wild ride! A set of high-output Caparison PH
humbuckers supplies a wide range of tones, from squeaky clean to extreme
high-gain grind. And no matter how you dial it in, every note you play
will retain its articulation and clarity. A 5-way Schaller Megaswitch
enables you to combine the Brocken FX-WM's pickups in a myriad of ways,
giving rise to infinite tonal textures. A master volume knob rounds out
the Brocken FX-WM's feature set.




Built for maximum tone and playability
Everything about the Brocken FX-WM centers around tone and
playability. Its Caparison-designed (and Gotoh-built) Fixed Bridge
employs saddles with a large movable range, priming it for an endless
array of string gauges and tunings. A saddle lock function minimizes
unwanted string vibrations, while Gotoh locking tuners provide for
rock-solid tuning and easy string changes. Like all Caparison guitars,
the Brocken FX-WM's headstock is set at 15 degrees to ensure the best
sound possible. And its super-thin, resonance-enhancing soft urethane
top coat was applied using Caparison's proprietary painting technique.



Caparison Guitars Brocken FX-WM Solidbody Electric Guitar Features:
Resonant mahogany body exudes warmth and sustain

Walnut top imparts extra definition and clarity

5-piece, titanium-reinforced maple/walnut neck offers incredible stability

Lightweight, 1.5"-thick body exhibits unprecedented comfort

Oiled, soft D-shaped neck supplies amazing playability

Fast-playing 27-fret compound-radius ebony fingerboard

Dual high-output humbuckers supply everything from squeaky cleans to extreme high-gain grind

5-way Schaller Megaswitch gives rise to infinite tonal textures

Gotoh-built Fixed Bridge is primed for an endless array of string gauges and tunings

Saddle lock function minimizes unwanted string vibrations

Gotoh locking tuners provide for rock-solid tuning and easy string changes

Headstock is set at 15 degrees to ensure the best sound possible

Super-thin, resonance-enhancing soft urethane top coat

Eye-catching devil's-tail-shaped headstock
Bagi
yang ingin berminat memesan barang - barang souns system, karaoke,
lighting, alat musik, cctv & home theater bisa hubungi IMAGINATION
MUSIC STORE di :
HP / WA : 081384476898
Pin BB : D88A26A3