Jual TC Electronic Flashback 2 Delay and Looper Pedal
Terima Kasih sebelumnya telah mengunjungi lapak kami. Kunjungi juga website kami di :
Dear My All Customer yang tercinte,
Numpang jualan lagi...
IMAGINATION MUSIC STORE mau promosi barang baru lagi nih
Mulai dari professional sound system, alat musik, aksesoris, lighting, paket karaoke, CCTV & banyak sekali produk elektronik lainnya...
Untuk yang ini, kita kasih kejutan promo yang seperti ini...
Penasaran?
langsung saja gan... CHECK IT OUT
Jual TC Electronic Flashback 2 Delay and Looper Pedal
Jual TC Electronic Flashback 2 Delay and Looper Pedal
,
harga Rp. 2.700.000,-
An Even More Powerful Flashback
The TC Electronic Flashback 2 delay is an amazingly versatile delay effect in a compact, pedalboard-friendly stompbox format. Featuring eight amazing delays plus a 40-second looper, the Flashback 2 is leaps and bounds ahead of standard delay pedals, which typically feature only a handful of delay effects. Some of the highlights of the Flashback 2 delay include three spots for saving tones pulled from TC's TonePrint Library, a new crystal delay, and TC's groundbreaking MASH footswitch control. If you thought the original Flashback was powerful, just wait until you experience the TC Electronic Flashback 2.
Loaded with tone-shaping tools
Connect an external footswitch (not included) to set the Flashback 2's to tap in tempo hands free. You can select from three delay modes — eighth note, dotted eighth note, and both eighth and dotted eighth note together — which are independent from the delay style. What's more, the way the Flashback 2 handles your dry signal is also unique, giving it an all-analog path that blends with the effected signal. On top of all these great features, the Flashback 2 delay also includes TC Electronic's TonePrint technology, which allows you to download custom delay styles made by some of today's top guitarists.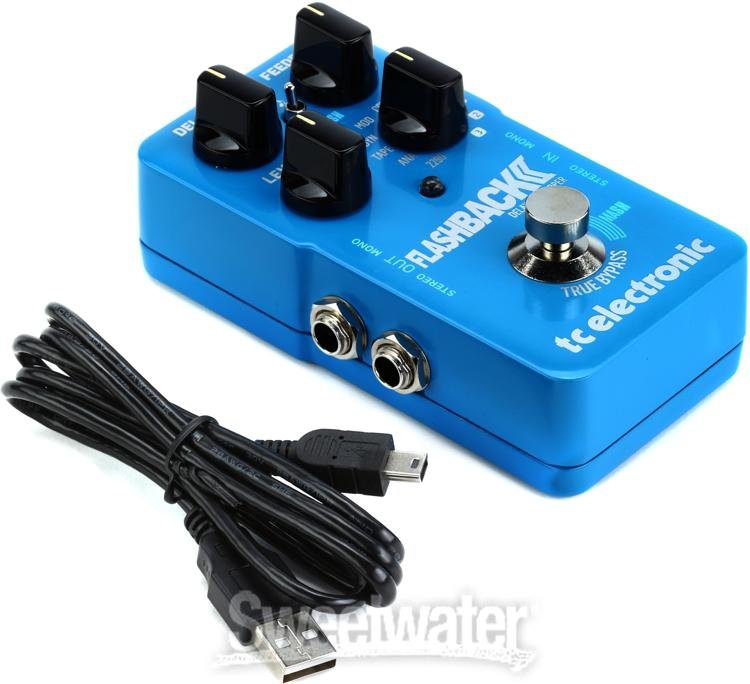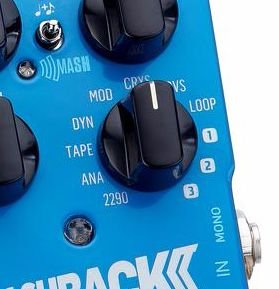 Three TonePrint slots to customize your delay
TonePrint-enabled pedals such as the Flashback 2 delay allow you to use the TonePrint app to download custom-designed artist presets. You can also use the TonePrint editor software to create your own custom settings. The Flashback 2 pedal allows you to load up three different TonePrint presets simultaneously for more flexibility onstage. When you need instant access to your tone, just choose one of the three TonePrints you've loaded and away you go.

MASH footswitch for expressive effects
The innovative MASH footswitch gives the Flash 2 pedal amazing creative potential. In addition to toggling the delay effect, this pressure-sensitive footswitch can be used in a similar fashion to an expression pedal. Use it to swell the delay mix, bring modulation to the repeats, and even increase the feedback amount. Or assign other parameters to the MASH footswitch for even more sonic creativity.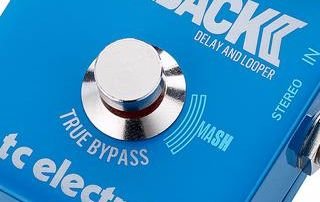 TC Electronic Flashback 2 Delay Features:
Powerful delay pedal in a compact form
MASH footswitch technology puts expression control under your foot
3 tone print slots for saving your favorite tones
New crystal delay tone
8 delay types including the 2290-style delay
Quarter-, eighth-, and dotted eighth-note subdivisions
40-second looper with infinite sound-on-sound recording
TonePrint technology gives you instant access to custom presets made by top guitarists
Optional footswitch (not included) lets you tap in delay times
Stereo I/O
Analog-Dry-Through circuitry preserves your analog tone
Easy single-screw battery access
Untuk Info Pemesanan, bisa hubungi kami di :
Berbagai bukti pengiriman ane ke customer di berbagai daerah dapat dilihat & di baca di :
Untuk pembayaran, transaksi dapat dilakukan di :
Rek Mandiri : 900 - 00 - 2522173 - 1
A/N : Tony Kurniawan
Rek BCA : 752 - 024 - 4110
A/N : Tony Kurniawan
No Nipu2 Tidak Menerima COD (via kirim2 dulu)
Pengiriman via TIKI, JNE, Mex Berlian, Indah Cargo, Panca Kobra, MPS dll
Terima Kasih Atas Kunjungannyaa